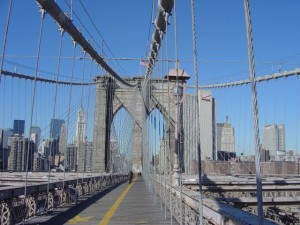 Brooklin Bridge – NYC:(english)
"Walking on the bridge" it's also inspirated to this image. This bridge is the only one in New York that you can cross by walk and link the island of Manhattan with Brooklin. Some times ago, these were two indipendent cities. Crossing a bridge could mean a lot of things. Personally, I think it's like going to an old point of your life, to a new one… and this bridge, it's really charming to dream that.
Attraversando Brooklyn Bridge…(italian)
Quante volte si è immaginato di attraversare un lungo ponte…quasi come volere passare a nuova vita, liberarsi delle cose che non vanno ed incominciare così una nuova esperienza? Beh, penso molte. Sognare di farlo oltrepassando il ponte di Brooklyn lascia di sicuro ancora più spazio all'immaginazione.
Questo ponte è l'unico percorribile a piedi. Si impiegano circa 15 minuti nell'attraversarlo ed è lungo poco più di un chilometro. Man mano che ci si allontana da Manhattan, cresce sempre più la visuale dei numerosi grattacieli che contraddistinguono questo centro. Oltre ai numerosi turisti che lo fotografano in continuazione, ci sono anche molti newyorkesi che si dilettano nel
leggere qualche libro o il giornale sostando sulle panche che si possono trovare lungo il tragitto. Arrivati dall'altro lato, si giunge a Brooklyn, un tempo una città separata da Manhattan ed ora una delle aree più tranquille di New York. Seppure sembra essere molto antico, in realtà non lo è. Risale al 1883 il termine della sua costruzione. Da allora è divenuto uno dei simboli del "sogno americano", un po' come la Statua della Libertà. Attenzione però a dire che è giovane, gli Stati Uniti sono una nazione nata molto dopo rispetto alle civiltà europee… una chiesa di 100 anni è già con una grande storia alle spalle! Si tratta solo di adeguare i giusti parametri.