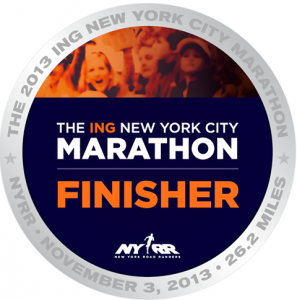 "You make it the Marathon". A slogan that now makes sense. Running my first marathon was definitely a life-learning experience. A journey that starts with all the training sessions during the year, continues with all the up and down of the physical and mind conditions, and ends with 26.2 miles of people who constantly cheers for every single runner.
I'm grateful I was able to experience all those great feelings. I'm grateful to be part of it. I'm grateful I have touched all those stories of runners, volunteers, friends, charity organizations that meets in such a unique place and time.
This is not just a race. It is a life-learning experience that will stick into my heart and mind for very long time!!!
Now I can say: I'm a finisher!
3hrs 52min 59sec