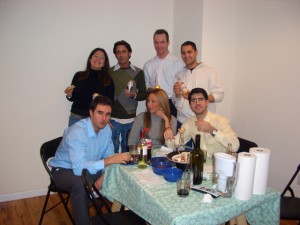 It's some times that this blog didnt' see new post..but, let's go ahead to find a remedy 🙂
It looks like yesterday the moment when I came here. More than 10 months are alreday gone. The life here use to run more than you, but fortunately, nothing happens without a reason.
My working experience is giving me a lot of opportunities to learn. I'm lucky to work everyday with people from which I can learn. And, as always, from my side the 200% of my self is guaranteed. I try to do my best in every things I do…and I'm sure this is the best way to growing in my life.
New York is also the land of friendship. Why? Because there is always some friends who is coming to visit New York; because the 90% of the young people in this city is living a similar experience, studying, doing an internships or something else, and because, you just need to be open minded and start to talk with the first person close to you.
So, it happens that during the week, a group of friends meet each others living te cultural mix of this city. During the last month I had the pleasure to host Fabio from Pavia (viva i castori e la vita di…); to meet Alessandro(one of the LCPs of my National AIESEC terms) and his friend from Ancona; to see again my cousin Teresa and boyfriend, to have back one of the person who I use to call "brother". Yes, Leonardo is back to New York and we started to share our love for all that could be called "Arts". First stop, Broadway, "Les Miserables" di Victor Hugo. Unbelievable and unforgettable. Which will be the next broadway show?
And so, as good italian, could not miss a nice pizza into our house… with something nice to drink and a good music as a background. Final results? Some good pictures to keep in the place called:
friendships
.
Take care my dears
Gianpy