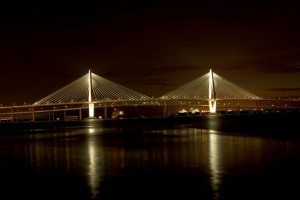 Here we go….after almost 3 years of "Big Apple" life, my luggages moved again….new destination South Carolina, Charleston. And…a new bridge to cross….looking forward to do that….
I'm here since 2 weeks and I'm still astonished between feelings regarding NY friendships and "life-key"…and the news to be in a more quite, clean and definetely warmer city.
Temperature are like during the Spring Time and every place is extremely clean. People are friendly and I love my job. This is a place mainly founded on the shipping industry and tourism and he is one of the most historical place of the country.
Probably this will be the time to know the real America. I'm sure it will be an interesting experience…and this means that this blog will become the place where to post all the pictures and news I will find on this place….So, keep in touch.
Enjoy your week end…and let me leave you with a quote I was reading this morning.
Take care
Gianpy
"There are no classes in life for beginners: right away youare always asked to deal with what is most difficult."– Rainer Maria Rilke