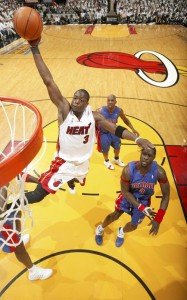 "That's just us. Just the heart of a champion,"
Pistons forward Rasheed Wallace said. "Yeah, we're down right now 2-1, but we think that we can overcome any deficit that is put in front of us."
This is just one of the sentences that can describe what is going on in the NBA Playoff Games. When I was in the high school, I used to wait sunday morning to watch one of my favourite TV Series, "NBA Action". And I also remember that one of my favourite video-games was about the NBA series. Who can forget Michael Jordan and Chicago Bulls!!
Every day, I'm enjoying the NBA play-off… and this time…watching directly the TV. No better way to relax yourself at the end of the long day…. ops…that's true if you like basketball and…so, NBA..:-)
There is no Chicago Bulls at the end of this year competion…but… it's always present the magic way to play basketball in USA. Enjoy the match!!!