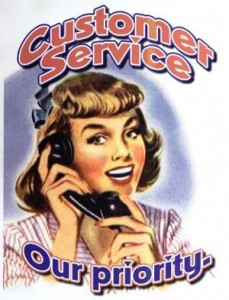 An interesting article written by DANA MATTIOLI on the Wall Street Journal. A reflection of today business environment…
"Executives are paying more attention to customer service in an effort to increase sales and gain market share in the economic recovery.
Drug-store chain Walgreen Co. is training pharmacists to spend more time helping patients with chronic illnesses. Comcast Corp. is putting call-center agents through new training and instructing supervisors to coach their agents more. American Express Co. is expanding a program aimed at getting agents to build better relationships with customers.
American Express is encouraging its call-center agents to focus more on the quality of customer service than the quantity of calls handled.
.Just over a quarter of the 1,405 companies surveyed by Accenture late last year said customer service would be the first area they'd increase funding for as the economy recovers. Some companies have begun that practice this year.
Businesses are changing their approach, too, dedicating more of their efforts to the customer segments considered most lucrative. It's an outgrowth of the recession, when companies scrutinized customer-service spending to see which business practices delivered the biggest returns.
Some executives also see a chance to woo frustrated customers from rivals through word of mouth and by creating pleasant experiences. In another Accenture survey of 5,000 consumers, 69% said they had switched at least one provider because of poor customer service in 2009. That's two percentage points higher than in 2008 and 10 points higher than 2007.
Walgreen is trying to gain the loyalty of patients with chronic illnesses, starting with diabetes. Since January, it has trained 500 pharmacists to work closely with diabetes patients. The pharmacists set up regular 20-to-45-minute meetings with patients to help them manage their disease. Pharmacists normally meet with patients for about three to five minutes. Walgreen is betting that loyal customers with lifelong illnesses will spend more money at the pharmacy and consolidate prescriptions there.
"We think we'll see a stronger degree of patient loyalty, and we want to get a bigger share of the patient wallet," says Colin Watts, chief innovation officer at Walgreen.
With 4,000 new diabetes cases being diagnosed each day, according to Walgreen research, Mr. Watts expects the program to attract new customers. In an effort to improve customer service, executives conducted home visits with patients. Diabetic patients said they were confused about managing the disease and the advice they received.
The company plans to roll the program out nationally by the end of 2010—it's in eight regions now—and extend similar services to customers with asthma and hypertension.
Cable provider Comcast is bolstering customer service operations in an effort to retain customers and sell higher-priced services. The company has been trying to improve customer service for the past couple of years, but it's still a sore spot: earlier this year The Consumerist, a consumer issues website, granted Comcast its "Worst Company in America" award.
In January, Comcast started putting its 24,000 call-center agents through additional training and has told call-center supervisors to spend 70% of their time coaching their agents, more than double the amount of time they spent before. So far, Comcast says it's seen a decrease in repeat customer calls—queries about the same problem—and in customer requests to speak to a supervisor.
"Our primary focus has been on ensuring that we're delivering superior customer service and that clears the way for us to be able to up-sell," says Tina Waters, senior vice president of customer operations at Comcast.
American Express is also relying on customer service changes to drive growth. It's expanding a training program started last year aimed at getting call-center agents to focus less on resolving calls quickly, and more on building customer loyalty. The reasoning: more loyal customers will spend more money. Already agents in 16 countries have gone through the training; later this year the program rolls out to about five more countries.
Rather than answering a call by saying "Thank you for calling," agents now say: "How is your day going?" They're also told to look for opportunities to pitch related services rather than rush off a call.
Customer service is "a growth engine for a company in a world where marketing dollars and credit is constrained," says Jim Bush, head of world-wide customer service "